How our church and community contributes…
In 2015 Holy Lutheran Church and several other local churches in our community have worked together
to create a warehouse space right here in TERRYVILLE,
to collect and organize donated goods for shipping all over the world.
How can you contribute?  Email-  htlc08@sbcglobal.net  
We also have a local Loaner program, if you need hospital type supplies
(beds, walkers, commodes) 
Please reach out to us if you have a need.
ITEMS COLLECTED BY THE NEW ENGLAND BRANCH
OF ORPHAN GRAIN TRAIN LOCATED AT 33 S. MAIN ST., TERRYVILLE CT. 860-582-0723
• MEDICAL SUPPLIES( HOSPITAL GOWNS, LINENS,GLOVES,NEEDLES,ORTHOPEDIC, OSTOMY, IV ITEMS,LABORATORY,FEEDING,RESPIRATORY,SURGICAL,UROLOGIC,DIAPERS-ADULT&INFANT,
EQUIPMENT,BP DEVICES, ETC.)
• MEDICAL EQUIPMENT( HOSPITAL BEDS, MATTRESSES, WHEELCHAIRS, LIFTING DEVICES, WALKERS, CANES,CRUTCHES, COMMODES, SHOWER CHAIRS, TRAY TABLES, RISERS,ETC.)
• HYGIENE KITS- EACH KIT( I BATH TOWEL, WASH CLOTH, SOAP, TOOTHBRUSH, COMB, 6 BAND AIDS, DEODORANT IS OPTIONAL)
• SCHOOL KITS- EACH KIT( BACKPACK,2-3 SPIRAL NOTEBOOKS, 2 OR MORE PENCILS AND PENS, PKG. CONSTRUCTION PAPER, CRAYONS,RULER,GLUE STICKS,BLUNT SCISSORS, WASHABLE MARKERS, PROTRACTOR)
• BLANKETS AND QUILTS-NEW OR USED IN GOOD CONDITION
• PILLOWCASE DRESSES
• CLOTHING( NEW AND USED CLOTHING( WHICH MUST BE CLEAN WITH NO TEARS OR STAINS)- MENS, WOMENS AND CHILDREN)
• COATS, HATS , GLOVES AND SCARVES, NEW OR USED IN GOOD CONDITION
• SHOES- WINTER AND SUMMER, NEW OR USED IN GOOD CONDITION
• UNDERWEAR AND SOCKS(MUST BE NEW)
• SEWING MACHINES AND SUPPLIES
• BED LINENS
• REHAB EQUIPMENT
• MONETARY DONATIONS MADE OUT TO: OGT, NEW ENGLAND BRANCH
THANK YOU FOR YOUR CONSIDERATION AND BLESSINGS, "EACH ONE SHOULD USE WHATEVER GIFT HE HAS RECEIVED TO SERVE OTHERS…" 1 PETER 4:10
The Holy Trinity sewing group is willing to work on making new pillowcase dresses. If you would like to donate new beautiful pillow cases for our group to sew into pillowcase dresses, contact the church or drop them off in the fellowship hall.  Pillow case dresses are an economical way to provide dresses for girls overseas.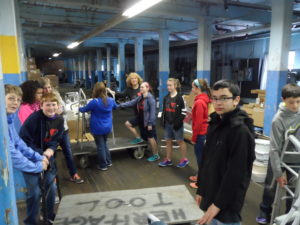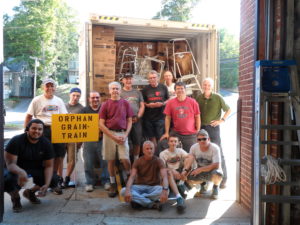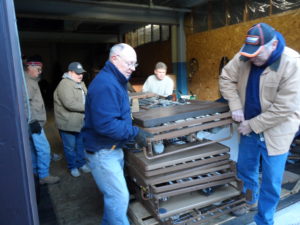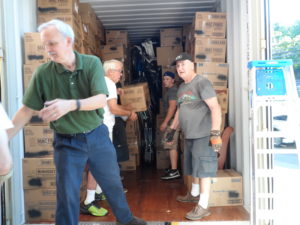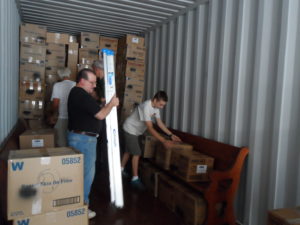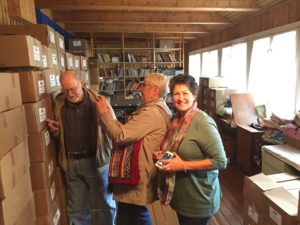 View video, "In our own words, the Orphan Grain Train"
Mission Statement
In loving response to Christ, the Servant, the Orphan Grain Train movement encourages and enables God's people to share personal and material resources in bringing Christ's name and character to needy people both far and near.
Sometimes that character expresses itself as a word well spoken, sometimes as a bandage well applied, and sometimes as a child well fed.
What is Orphan Grain Train?
Orphan Grain Train is a Christian volunteer network that shares personal and material resources with needy people in America and around the world. Grain Train volunteers gather donations of clothing, medical supplies, food, Christian literature, and other aid to meet real needs. The Orphan Grain Train movement is a loving response to Jesus Christ's example as a servant and His love for us.
Present Day
Since 1992, Orphan Grain Train's 18 regional branches have delivered more than 63 million pounds of humanitarian aid to needy people in more than 60 countries on five continents. An additional 330 semi loads of hay and forage products were delivered in 2002-03 to drought-stricken farmers in the Midwest during Operation Hay and Grain Lift.