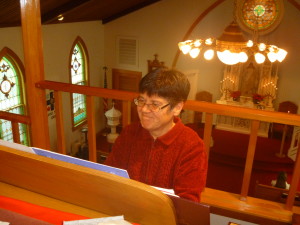 ORGANIST AND MUSIC DIRDCTOR
There are so many ways in which we can give thanks and praise to God – one of the most beautiful and enjoyable ways being through music. This congregation has been blessed with many talented musicians and singers over its lifetime. Holy Trinity Lutheran Church continues to offer many musical opportunities for its members  including:
• Adult Choir
• Bell Choir
On occasion, individual instrumental pieces provide praise to God in select Worship services.
Adult Choir:
*Meets every Thursday, September through June at 7 P.M. in the church balcony. Anyone can join!!!
*We have a lot of fun singing the praises of our Lord Jesus!
*We sing every other Sunday and for special services (Christmas, Easter, etc.)