It is always a privilege to serve you and my Lord here at Holy Trinity.  I very much enjoy playing the organ for every service and the singing that I hear coming from our congregation!  Our choir is doing very well with sopranos, altos, tenors, and bases.  From September to May we sing every other Sunday.  Even if you think you cannot sing, come on out and participate with our choir!
We also have special occasion band, individual instruments, and Bell choir too!  If you can count to 4, you can participate with our bell choir
Join us Thursdays at 7 pm for choir practice or contact me via the church office.
Yours in Christ
Roze Stockman, music director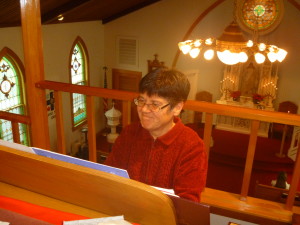 Email, htlc08@sbcglobal.net  or 860-582-0723