On behalf of the congregation at Holy Trinity Lutheran Church, I bid you a warm welcome, and wish to tell you a little about our church.
We are blessed to be part of the Lutheran Church – Missouri Synod (LCMS) which believes that the Bible is the true and inerrant Word of God, that we are saved from the eternal fire of hell by the blood of Jesus Christ who died on a cross and rose from the dead, winning the victory over sin and the devil, so that all who believe in Christ shall not die but have everlasting life.
Holy Trinity is a congregation that is made up of all ages, races, and economic groups. One thing that unites us all here at Holy Trinity, is that we are all sinners who know we have been saved by God's grace through our Lord And Savior, Jesus Christ.
We have a very active Youth Group that attends Pine Shore Bible Camp every summer in Westminster, MA. They also attend a Higher Things Youth Conference at least every other year. These conferences are held on college campuses all over the country. The most recent conferences attended were held at Vanderbilt University in Nashville, TN, Wake Forest University in Winston-Salem, NC, and the University of Scranton in Scranton, PA. This years' conference will be at Concordia University in Mequon, WI.
The women here at Holy Trinity are also very active with groups such as Ladies Aid, LWML(Lutheran Women's Missionary League), the Sewing Group, and Prayer Shawls. Ladies Aid is responsible for putting on our Christmas Bazaar, and the Palm Sunday Brunch (yum). The LWML is the official woman's organization of the LCMS. The LWML supports mission outreach and personal spiritual development.  The Sewing Group is a  group of women who make most of our banners that hang in the church during the appropriate seasons. Prayer Shawls is a large group of women who knit or crochet shawls and blankets for distribution to the needy.
The Sunday service is called the Divine Service and that is what it truly is. We start out by confessing our sins to God and then we receive Divine Absolution from Him! We then get to hear His Divine Word of Law and Gospel. Then we confess what we believe about God's Divinity in the Creed before we share in the Divine Meal of Holy Communion in which we receive the True Body and Blood of our Lord, Jesus Christ, from Him!! How Divine!!!
I could go on about other services and other groups in the church, but I'm supposed to keep this message kind of short.
Anyway, if you are looking for a church that's loaded with sinners, that's us! (Jesus came to save sinners after all.) We're not happy about being sinners, we're just happy knowing that we are saved because Jesus paid the price for all of our sins.
Come on down and see Pastor Kotila. Nice Guy. (sinner, but also a saint)
God Bless you,   Gene Giblin  –  Vice President
Church History: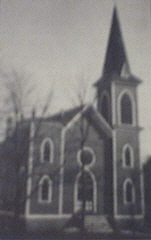 Holy Trinity Lutheran Church traces its earliest beginnings actually more than one hundred years ago when Rev. William Jentsch of Waterbury was meeting with area Lutherans. At the same time, others were in the habit of going to Immanuel Lutheran Church in Bristol for worship. In 1896, Rev. Jentsch entrusted the spiritual care of the entire flock to Rev. Otto Duessel, of Immanuel, who, shortly thereafter, offered to come to the area to conduct worship services in a schoolhouse on Fiddlers Green in Pequabuck. This group soon organized as The German Evangelical Lutheran St. Paul Congregation U.A.C. (Unaltered Augsburg Confession) of Terryville, Connecticut.
In 1902 a church building was built and dedicated on Main Street. The congregation continued to grow to the point where the majority of members urged that it became self-supporting, and able to call its own pastor. Rev. Duessel and a number of others did not concur and a split resulted. After the church was padlocked for six months, the civil courts finally settled the matter awarding the property to the majority, who favored calling a pastor. The congregation continues today as St. Paul Lutheran Church and is located at 32 Main Street, Terryville.
Rev. Duessel and twelve families began to gather in a meat market on Agney Avenue, and later moved to a wooden schoolhouse on Main Street (where the Veterans Memorial is now located). The group continued to use the name St. Paul until 1907, but because of confusion with the mail the group adopted the name Holy Trinity Evangelical Lutheran Church U.A.C.
It is interesting to note that Pastor Duessel was being paid about $12 per month at the time.
In 1908, Holy Trinity purchased an eight-acre swamp property on Maple Street for three hundred dollars and a good buggy whip. Little by little, soil was carried in by dedicated members, making it usable for valuable property. In 1909 the congregation affiliated with The Lutheran Church-Missouri Synod. On October 9, 1910, the cornerstone was laid for the present church on Maple Street. The building was dedicated on May 7, 1911 and cost approximately six-thousand dollars. Pastor Duessel continued to serve the congregation until 1925, and Dr. Herbert Kern of Immanuel in Bristol served as teacher of religion, German, and music in Saturday School.
The first full time, resident pastor, the Reverent Paul O. Schulze, was called and installed in 1925. At the time the congregation built the parsonage and beautified the grounds. English services started in 1926, first once a month, then alternating weekly with German services. The congregation continued to grow and even supported a mission in Thomaston for a period of time. Also, about this time, an oil company took a five-year lease on part of the property fronting on Main Street and constructed a service station there. In 1929. Pastor Schulze served the congregation until 1941.
In February of 1941 the Reverend Frederick F. Breuer was installed as Holy Trinity s second resident pastor. He faithfully served the congregation for the next forty years. Pastor Breuer brought a strong mission emphasis to Holy trinity s ministry a priority that has remained with the congregation even unto this day.
World War II took place early in Pastor Breuer's years here. Twenty-three young men of the congregation volunteered for service or were inducted into military service. These were tough years, not only for the church, but also for the families, especially young brides and mothers, who saw their loved ones go off to war. The church maintained itself through usual offerings plus the income from the Main Street tenants that included Riendeaus Grocery and the Sunoco Station. With the end of the war in sight, members made an extra effort to eliminate the mortgage before the men came home. A Roll of Honor Plaque listed all who served in the War was placed in the vestibule and remains there to this day.
In 1963 the last German worship service was held and, some years later, the Main Street property was sold and the money invested. In October 1972 it was decided to use the investments to expand and renovate the church. The interior walls were demolished, new electrical wiring was and insulation was installed, the walls, ceiling and balcony railing was rebuilt. At the rear of the church a pastor's office and conference room were added, a new Geddes pipe organ was installed, vinyl siding and a new roof completed the outside of the building.
In 1981, after Pastor Breuer's retirement, Holy Trinity decided to issue a call to a new candidate from one of our seminaries. Ref. John Hohe was the graduate assigned to the congregation, and he immediately accepted the call. The congregation was saddened by the sudden death of Pastor Breuer in March of 1982. Just prior to Pastor Hohe's arrival, a thorough renovation of the parsonage welcomed the new pastor and his wife when he arrived in August.
During his five years at Holy Trinity, Pastor Hohe emphasized the importance of mission work that could take place in our own community. A summer Vacation Bible School program and weekly television cable broadcast were just two new ideas Pastor Hohe introduced to the congregation. In addition, he acquainted the congregation with the Synod s new hymnal Lutheran Worship, which had been purchased prior to his arrival but had not yet been placed in the pews. Many new members were received and former members were reactivated during Pastor Hohe's ministry at Holy Trinity. The congregation sadly bade him farewell in 1987 when he answered a call to serve at St. James Lutheran Church in Canton, Massachusetts.
In November of 1987, Holy Trinity issued its next call to The Reverend Philip J. Hillenbrand, who was serving as Assistant Pastor of St. Paul Lutheran Church in Westport, Connecticut. Pastor Hillenbrand accepted the call and was installed in January of 1988. He continued to shepherd the congregation in the same biblical sense as his predecessors; and the congregation continued to grow both spiritually and numerically.
Of special note, over the last decade, his been the influx of many new, young families. Recognizing the expanding educational and social needs caused by his growth, the congregation, in 1989, created a Building Committee. On July 29, 1990, after much study and prayer, ground was broken for a new 3500 square foot Fellowship Hall. Both by contract and by the helping hands of skilled and dedicated members, the work proceeded. On June 16, 1991, in conjunction with Holy Trinity s ninety-fifth anniversary, the new hall was dedicated. As more funds were received, work progressed on the unfinished areas and on April 24, 1994, the dedication of the Frederick F. Breuer Library, the Edward E. Schroeder Stained Glass Window and the Fellowship Hall kitchen took place. Great praise was given to God and many thanks to the congregation as all this was accomplished without any additional indebtedness.
In 1994, Pastor Hillenbrand again led the congregation in mission outreach when he suggested and encouraged Holy Trinity to consider starting a mission congregation in the northwest corner of the state. In November of the same year, an initial service, held in the Bantam Borough Hall, was received with enthusiasm beyond expectation. The congregation organized unofficially under the name Shepherd of the Hills Lutheran Church and began holding services each Sunday.
With the new mission church came added responsibilities for Pastor Hillenbrand, and by January of 1995, it was decided that a Vicar should be requested to help with the ministry in both congregations. In August 1995, Vicar Guy Roberts arrived and aided in the development of this mission. Shepherd of the Hills has since adopted a constitution, elected officers, and received its official charger as an LCMS congregation in July of 1996. Succeeding Vicars Leigh Hart and Jonathan Vollrath, under the guidance of Pastor Hillenbrand, continued to assist in the Shepherd of the Hills. Pastor Hillenbrand took a call in 1999 and after a call to the Seminary we received Pastor Richard Neagley and his family Claire, Rebekah and Daniel, he decided to leave Holy Trinity in 2001. We again placed a call to the seminary and were blessed with Michael Ahelemeyer his wife Jaki and their son Payton-Michael. In 2004 Pastor Ahelemeyer accepted a call, and Pastor Schumacher was our vacancy Pastor. Pastor Joel Kotila arrived in 2006 with his wife Kari and sons Peder, Erik and Mikkel; he continues to serve as our Pastor.
We at Holy Trinity are very thankful for the blessings God has bestowed on us throughout our first one-hundred years and pray for His continued guidance as we enter our next century for His Kingdom.
Clergy:
Rev. Otto Duessel
1986-1925
Rev. Paul O. Schulze
1925-1941
Rev. Frederick F. Breuer
1941-1982
Rev. John Hohe
1982-1987
Rev. Philip Hillenbrand
1988-1999
Rev. Richard Neagley
1999-2001
Rev. Michael Ahlemeyer
2002-2004
Vacancy Pastor: Rev S.R. Schumacher
Rev. Joel Kotila
Present